June 29, 2019
Everyone was invited
to attend a
Parish Profile Workshop from 10 a.m. to 1 p.m. in Brown Hall
where staff from the Diocese of West Texas lead us through the development of the Parish Profile to be used as the primary resource to invite clergy to consider becoming a candidate for rector. Approximately 65 participants attended.
Search Committee
The search committee was announced and includes Priscilla Coppock (chair), Alice Bock, Robert Carrington, Kitty Flores, Rodney Gray, John Kiel, Mark Mangus, Jana Orsinger, Violi Roller, Jann Steed and Timothy Webber.
June 2, 2019
Our former Rector, The Rev. Robert Woody, retired and the search process for our new Rector has begun.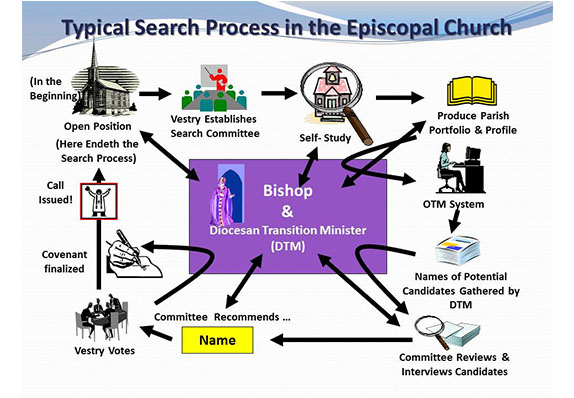 We will commission the Search Committee on June 30, 2019.
Q: Who is the Search Committee Chair?
A: Priscilla Coppock is the Search Committee Chair.
Q: Who is our Interim Rector?
A: We are very blessed that The Rev. Judith Rhodes, who has been a part of Reconciliation for four years, has been selected to be our Interim Rector.
Q: How long does the process take?
A: We can expect the process to take approximately 12 - 18 months or more.
Q: Why does it take so long?
A: It is by design. In many ways, the transition process is similar to a death or a divorce. The status quo is drastically changed, and just like it is a good idea to give yourself time to adjust to a new circumstance and figure out the best way forward instead of jumping into a new relationship right away, as a congregation we need to go through this together. During this time, we will help each other continue our mission and maintain the loving atmosphere that is found at Reconciliation.