SUNDAY MORNINGS
8:00 am HOLY EUCHARIST IN THE SANCTUARY
No need to register! All are welcome!
9:00 am CHAPEL WITH HOLY COMMUNION ON THE LABYRINTH


EVERYONE is invited.....Elementary, Middle School, High School, Adults…young and old….
EVERYONE!!
We are outside, wearing masks, staying 6 feet apart and celebrating our love for God together (and all in less than one hour!!) Communion is always served!! (Please bring your own chair and blanketsif it is chilly in the morning!!)
10:30 am LIVESTREAM SERVICE
No need to register! All are welcome!
ADULT EDUCATION
Centering Prayer
Our group meets at 7pm on the first and third Wednesdays, September - May via zoom.
Zoom at Noon Prayer Services
Thank you for tuning in for noonday prayer, followed by conversation and reflection.
Each Wednesday morning, you will receive an email with the invitation to join the Zoom meeting.
Romeo and Juliet on Zoom
Thursdays, 11:30am-12:30pm
Reconcilers, Steve and Sam Gilliam would like to host/facilitate a zoom gathering each Thursday, specifically for the Romeo & Juliet crowd but of course anyone else who would like to join us will be warmly welcomed!
Romeo & Juliet
stands for Real Old Men Eating Out & Joyfully Unique Ladies Into Eating Too. Inspired by Carl Strating (who coined the name ROMEO) as a monthly gathering for lunch, fellowship and a time to reflect on the rich legacy of Reconciliation.
Zoom Info will be sent every Thursday morning.
Morning Prayer (Oracion Matutina Diaria) in Spanish on Fridays, 9:00am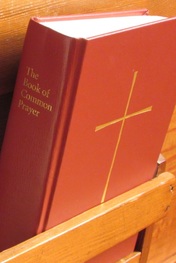 Join Erica Valle on Zoom or Facebook on Fridays at 9am for Morning Prayer in Spanish! If you do not speak Spanish, you are welcome to follow along in your Book of Common Prayer (Erica will provide context and page numbers). Can't make it? Don't worry! It will be uploaded and posted later.
Click here
to watch on our Facebook page.